NICE TO MEET YOU!

I'm Tim.
I show up, I listen and I write. Mainly about music.
My goal is to take music journalism in Germany to another level. To fill it up with emotions rather than dull advertising, copy and paste or cynicism. To make the experience be felt so you may find something exciting out there.
I am in love with all things that rock. Yet I engage in a variety of genres, whether it is experimental, traditional with a twist or something entirely different. On the other hand I love creating portraits, interviews and other editorial specials surrounding pop culture in Munich and abroad.
Apart from bands, artists, promotion- and booking-agencies my clients include independent magazines and blogs, small to medium-sized corporations as well as companies in the field of online marketing and digital media.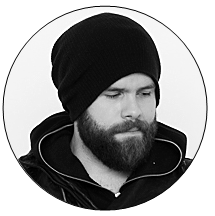 NOT INTO MUSIC?
Tell me about your passion and what excites you and maybe we can create something together. Wether you run a marvelous place, plan an intriguing project or anything other people should keep a close eye on:
Hit me up!
I am fast, approachable, to the point and creative where needed. As long as you let me wear my boots and leather jacket. Then again, leather usually goes with everything …
YOU WOULD LOVE TO COLLABORATE?
THEN PLEASE GET IN TOUCH!

Or let's grab a coffee or beer